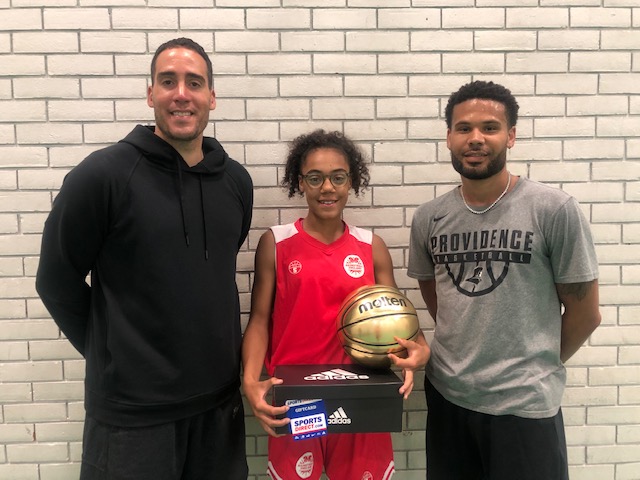 5 On It Foundation were delighted to join MK Basketball Club last night in awarding their U14s player Athena Thompson, who represents England, with a joint funded bursary, from both the Charity and the Club, to go towards oversees travel expenses and purchasing essential playing kit.
Athena has just returned from Serbia where she represented England and is now looking forward to training during off season with MK Basketball Club and Basketball England. 5 On It ambassadors and top level players Kai Williams and Jordan Spencer presented Athena with her bursary voucher. Jordan said "Kai and myself are delighted to award Athena with the joint bursary funding and congratulate her on her incredible achievement of being selected to play for England".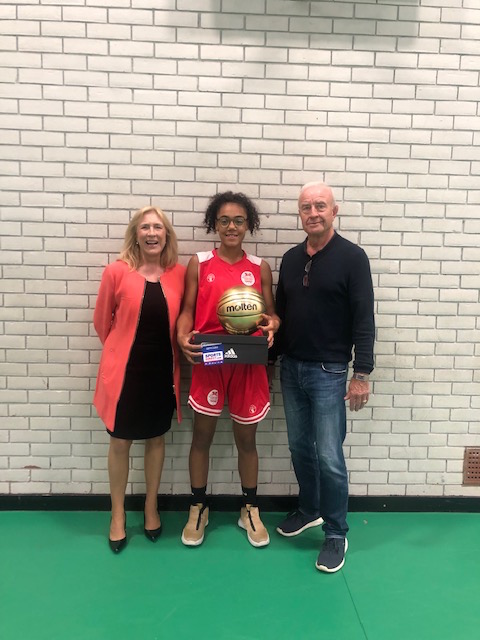 Peter Taylor, Chairman of MK Basketball Club added "We are all very proud that Athena has been chosen to represent England. Already a great talent, she clearly she has a tremendous future in women's basketball here in the UK. A huge thank you to 5 On It Foundation who, along with The Milton Keynes Basketball Foundation, provided financial bursaries to Athena".
5 On It Foundation, a local charity that delivers free sports and arts programmes to young people in Milton Keynes, extend a big thank you to John Baldwin, the founder of its bursary programme, for his ongoing support which has helped several under 18s follow their dreams in their chosen sport. The Milton Keynes Community Foundation also have been instrumental in helping 5 On It create opportunities for young basketballers in Milton Keynes.